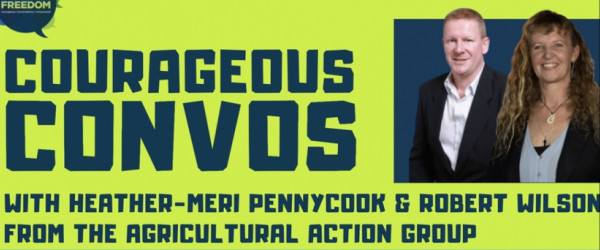 A Courageous Conversation With The Agricultural Action Group
Courageous Convos is a weekly live webinar hosted by Voices For Freedom co-founders (Claire, Alia & Libby) with a special guest.
This week's guests are Heather-Meri Pennycook and Robert Wilson from the Agricultural Action Group who bring us up to speed with what's been going on in the agriculture / farming sector.
Watch the webinar here.
Are you concerned about the future of farming and small rural communities? The fact is that this concerns everyone of us here in NZ.
🤔 New freshwater regulations
🤔 1 October sowing deadline
🤔 Consent requirements for farming activities eg 10degree paddock sowing resource consent's
🤔 SNA [Significant Natural Area] – property confiscation
🤔 Carbon tax
🤔 ETS [Emissions Trading Scheme]
🤔 Removal of rural services;
🤔 CFMP's Certified Farm Management Plans
🤔 FWMP's Fresh Water Management Plans
🤔 15 – 50% stock reductions
🤔 Removal of fossil fuel vehicles, natural gas …….. and the list goes on…
Why are farmers being targeted first and what is the Globalist plan moving forward? What is the remedy for this – for farmers and everyone else?
This is a replay of our webinar recorded Live every Monday 8pm. To register for upcoming Lives please be sure you're signed up to our email.
Check out the Agricultural Action Group on social media or on their website to find out about upcoming events and to learn about your rights:
Facebook: https://www.facebook.com/AgActGroup20
Website: https://aag.org.nz/
Are you in NZ? Join thousand of others in local VFF groups: https://voicesforfreedom.co.nz/local-sign-up/
Learn your rights about face masks: https://voicesforfreedom.co.nz/face-mask-exemption/
Web: https://www.voicesforfreedom.co.nz
Instagram: https://www.instagram.com/voicesforfreedom_nz/
Telegram: https://t.me/voicesforfreedom
Thanks for reading and sharing! Remember to sign up to our mailing list to keep up with the latest news.
If you value what we are up to at Voices and would like to support our ongoing work you can donate to us and support our nationwide public education campaigns (webinars, flyers, billboards...) and other initiatives to speak up and push back for your freedoms.