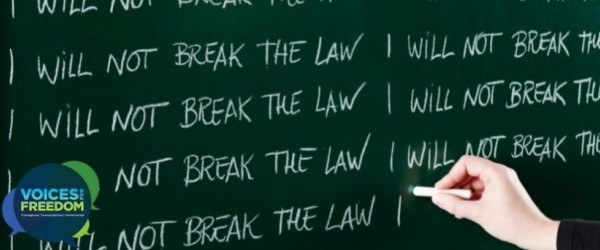 Holding The Government To Account
WHY HOLDING OUR GOVERNMENT OFFICIALS TO ACCOUNT, MATTERS.
This week lawyer Sue Grey sent an open letter ("the Letter") to our Prime Minister and a handful of government officials taking a leading role in New Zealand's Covid19 response. On Thursday Sue appeared on Magic Talk with Peter Williams to discuss the Letter.
After she spoke, Peter took calls and texts from members of the public on the matter. Matthew texted in, "Hey Peter, what the hell is this woman trying to do? Who cares if it's not the law? All those very worried people will just be conspiracy theorists…. "
In today's blog, we seek to answer the question: Who cares if what our Government is doing is not legal? In doing so, we'll make a case for why we should all care.
Firstly, what's in the Letter? Let's discuss the ways in which the Government is alleged to have breached the law and how they should remedy this.
THE LETTER
The Letter focuses on the roll-out of the novel Pfizer mRNA and nanogel vaccine, trade-marked "Comirnaty" (referred to here as "the Pfizer vaccine"). Specifically, the Letter is concerned in this respect with:
The approval process for the Pfizervaccine; The promotion/marketing of the Pfizer vaccine; and The administration of the Pfizer vaccine. The Prime Minister, the Director-General of Health and other relevant Ministers, are formally put on notice for alleged breaches of legislation, including of the Medicines Act 1981. The Letter also alleges that they have failed to uphold fundamental rights afforded to all New Zealanders. That is, the rights to make a fully informed choice and give fully informed consent to any medical procedure.
The Letter demands a halt to the Pfizer vaccine's roll-out pending resolution of these matters. It confirms that if neither of those is forthcoming before a deadline next week, instructions are to file legal proceedings.
1.  The Approval Process
The Pfizer Vaccine has been granted "provisional consent" in New Zealand under section 23 of the Medicines Act 1981 ("the Medicines Act") [1]
Section 23(1) states that the Minister of Health "may, by notice in the Gazette give his provisional consent to the supply or use of a new medicine where he is of the opinion that it is desirable that the medicine be supplied, or used on a restricted basis for the treatment of a limited number of patients".
The Pfizer vaccine's provisional consent has also been made subject to 58 conditions set out in the relevant gazette notice [2] (we've blogged about the significance of those).
In total contradiction to the legislation's clear wording, the Government has been promoting the Pfizer vaccine's supply and use as New Zealand's largest-ever mass medication/vaccination.
Press releases constantly boast that the Government has secured over 10 million doses. "Enough for all of New Zealand". And the Government itself has advertised that the plan is "for the vaccination of all New Zealanders" (most of whom are perfectly healthy and at no immediate or significant risk from COVID-19).
The proposed scale of use is clearly well outside the scope and purpose of a s23(1) provisional consent. Plus, the Government is proceeding with its plans to mass vaccinate, even though Pfizer is under no obligation to meet the majority of Medsafe conditions (if indeed they ever will be met) until after the scheduled roll-out to the general public is well underway.
2.  The Marketing And Promotion Of The Pfizer Vaccine
Advertising of products in New Zealand must comply with certain minimum standards and must not be misleading. The Advertising Standards Authority's Advertising Standards Code 2018 and our Fair Trading Act 1986 are the primary legal instruments relied upon to uphold these standards.
Principle 2 of the Code states that "advertising must be truthful, balanced and not misleading". Rule 2 (b) expands upon this, confirming that "Advertisements must not mislead or be likely to mislead, deceive or confuse consumers, abuse their trust or exploit their lack of knowledge. This includes by implication, inaccuracy, ambiguity, exaggeration, unrealistic claim, omission, false representation or otherwise."
Section 9 of the Fair Trading Act is concerned with conduct that is misleading or deceptive or is likely to mislead or deceive. Section 10 is more specific looking at conduct that is liable to mislead the public as to the nature, manufacturing process, characteristics, suitability for a purpose, or quantity of goods."
The New Zealand Government has clearly engaged in a substantial media and publicity campaign involving PR advice, numerous press releases, and advertisements in newspapers, TV, and radio to market "the Pfizer vaccine". The claims include representations that the Pfizer vaccine:
Is "safe and effective".
"It's safe. It has been approved by our own Medsafe experts…"
"It's effective".
"The more of us who get vaccinated the safer and stronger we will be".
"It's free.. The vaccine will be free for everyone in the country…"
"When we roll up our sleeves we are helping to protect all of us".
The reality is that there's no reliable evidence that this novel Pfizer vaccine is "safe" or "effective," at least not in the sense that the public commonly understands these terms. There is no substantial evidence that it will not cause significant short or long term harm to anyone who receives it, nor that it will prevent infection, symptoms and transmission etc.
The Government also claims that the vaccination is "free". However, while there is unlikely to be a charge when someone receives a vaccine, the vaccine's price comes at a very considerable cost to New Zealand taxpayers. Particularly when one takes into account the payments and other consideration to Pfizer of hitherto undisclosed sums.
Interestingly, even full Medsafe approval does not warrant the "safety or efficacy" of new medicine. Section 20(3) of the Medicines Act states: "No consent given under this section shall be deemed to warrant the safety or efficacy of the medicine to which the consent relates".
Further particulars on the evidence against the Pfizer vaccine being "safe" and "effective" are provided in the Letter, including the following:
Clinical safety trials will continue until February 2023 [3].
As highlighted in the data sheet and clinical trials, there is an absence of research to establish the safety of the vaccine for the following people: those who are already frail, ill or immunosuppressed (who are the very people most at risk if exposed to COVID-19), women who are pregnant, people on medications, people who have recently had other vaccines, and people with allergies.
Our Government's own information states, "we don't yet know if it will stop you from catching and passing on the virus."[3A]
When our Government says, "when we roll up our sleeves we are helping to protect all of us", they create the inference that the Pfizer vaccine prevents the transmission of COVID-19.
There is no evidence to support this claim. Even Pfizer itself does not claim that the vaccine prevents the transmission from one person to another, and this fact is referred to in our government's own materials.
In summary, marketing of the Pfizer vaccine in New Zealand leaves much to be desired, even compared to other countries like Canada, the UK, and the USA where it is referred to as an "unapproved product" able to be used under emergency powers [4].
At the end of the day, serious questions are being asked around the marketing of the Pfizer vaccine and they must be addressed.
3. The Administration Of The Pfizer Vaccine
The Letter also raises the issue of the manner of classification of the Pfizer vaccine, which has ramifications for the original provisional consent and administration of the vaccine.
Medsafe's Medicines Assessment Advisory Committee agenda notes for 2 February 2021 state that approval would be sought for provisional consent for the Pfizer vaccine as a "prescription only" medicine. However, the subsequent gazette notice omits this restriction.
It's unclear whether the "prescription only" classification was omitted in error or deliberately.
Still, in any case, Sue Grey requires that the recipients of her Letter confirm without delay why it is that the Pfizer vaccine has fewer restrictions on its use than many other far less novel and more tested vaccines, such as the MMR vaccine and even influenza.
When we consider that the administration of many properly-tested prescription-only medications is only allowed by medical practitioners, it is inappropriate to permit newly-appointed "vaccinators", armed with only two hours of training, to administer the brand new Pfizer vaccine [5].
INFORMED CONSENT
A critical issue raised in the open Letter segues with both the marketing and administration of the Pfizer Vaccine. It relates to the matter of "informed consent".
New Zealand law is clear that no medical treatment is mandatory. Consistent with this, the Health and Disability Commissioner Act 1994 and its corresponding Code of Health and Disability Services Consumers' Rights requires that all health and disability services comply with certain minimum patient care standards. Including providing adequate information to patients so they can make informed decisions.
This principle of "informed consent" is fundamental and affects each and everyone of us. It requires full disclosure of the Pfizer vaccine's risks, benefits, and uncertainties and consent to be given freely, without duress.
When the information provided about a treatment is inadequate to identify risks, uncertainties, or benefits, particularly if it is misleading or deceptive, health care providers fail in their obligations. Administration of treatment in these circumstances breaches all patients' fundamental rights.
In New Zealand, the information given before administering the Pfizer vaccine is grossly deficient to facilitate informed consent. It is also very superficial compared to information provided to recipients in other jurisdictions.[6] [7]
THE REMEDIES SOUGHT
Should the breaches identified above be established, remedies available under the legislation include declarations of the breach, fines, and imprisonment.
The Letter seeks:
Immediate suspension of the vaccine roll-out until the outstanding legal issues are addressed, including compliance with the statutory restriction that a new medicine with only provisional consent should only be used to treat a limited number of patients, and principled clarification of the intended "prescription only" status of the Pfizer vaccine; Corrective advertising to address misleading and deceptive claims and to facilitate fully informed consent; and Promotion of other ways the public can enhance their immunity to help protect against COVID-19, including a requirement to promote individual empowerment to help people become more resilient, in order that they move on from this current climate of fear, propaganda and uncertainty and start to reclaim a sense of individual sovereignty and hope for the future of their lives and our communities and New Zealand culture.
WHO DOES CARE? AND WHY WE SHOULD ALL CARE.
The Letter alleges serious breaches of the Medicines Act, Fair Trading Act, the NZ Bill of Rights Act and public law principles of decision making. Alongside, are apparent breaches of the fiduciary duties owed by our elected representatives to New Zealand's public.
The Government has been acting in a manner contrary to one we usually expect from a measured and democratic governing body for some time now. In the past year, to our horror, we have seen extensive, far-reaching and significant legislation enacted in rushed circumstances without full public debate.
Our Ministry of Justice has described potential requirements of this rushed legislation as imposing orders that could, "if applied to their fullest extent, impose arguably the most extreme and significant limitations on New Zealanders' ability to freely go about our daily lives as has occurred in modern New Zealand history".
Any unlawful use of the Medicines Act by the Government in order to roll-out an experimental product to the entire New Zealand population, has serious implications.
Not only is there a significant risk of consequential harm due to reliance on misleading and unjustified assurances that approval of the vaccine by Medsafe makes it safe and effective, but potential harm includes incursions into New Zealanders' fundamental human rights, public health and well-being. It also leads to a denigration of trust in the Government.
Huge economic risk is also conceivable. Especially if international experts' warnings about this experimental vaccine triggering auto-immune or other adverse reactions are correct or if it facilitates the spread of COVID-19 by creating asymptomatic carriers.
Another issue that needs to be investigated is the threat to the integrity of our blood bank. This website at www.nzblood.co.nz states that no stand-down is required for the Pfizer vaccine as it is "approved by Medsafe". The consequences could be wide-ranging and devastating if our national blood supply becomes contaminated by novel mRNA.
Governments who rush laws significantly limiting our human rights, and break their own laws to unlawfully push experimental products on their populations in a cloud of propaganda, can only be described as tyrannical.
Has New Zealand become a totalitarian state of smiling politicians who preach about kindness in one breath and break laws in the next?
What's next?
A truly significant invasion of human rights such as turning a blind eye to "health" passports to access public services? (Oh wait – they're already being discussed.)
But even worse, suppose New Zealand is now a place where no one even cares whether our Government is breaching the very laws it promulgates and enforces against its citizens?
If we're only a little bit right, and the caller to Magic Talk represents the average Kiwi, we should all be worried, very worried indeed.
---
Thanks for reading and sharing! Remember to sign up to our mailing list to keep up with the latest news in this crazy space that is 2021. If you value what we are up to at Voices and would like to support our ongoing work, we now have a donate button so you can buy us a coffee and help to keep our eyes open until the wee small hours ????
[1] 
The Medicines Act 1981.
[2] 
The Gazette Notice
. [3] 
https://clinicaltrials.gov/ct2/show/NCT04368728 Official
Title: A PHASE 1/2/3, PLACEBO-CONTROLLED, RANDOMIZED, OBSERVER-BLIND, DOSE-FINDING STUDY TO EVALUATE THE SAFETY, TOLERABILITY, IMMUNOGENICITY, AND EFFICACY OF SARS-COV-2 RNA VACCINE CANDIDATES AGAINST COVID-19 IN HEALTHY INDIVIDUAL [3A] 
Government Materials
. [4] 
USA Emergency Use Declaration
. And in 
Europe
. [5] Supporting research. [6] 
Covid information for recipients
[7] US information 
fact sheet for recipients and caregivers
.
Thanks for reading and sharing! Remember to sign up to our mailing list to keep up with the latest news.
If you value what we are up to at Voices and would like to support our ongoing work you can donate to us and support our nationwide public education campaigns (webinars, flyers, billboards...) and other initiatives to speak up and push back for your freedoms.