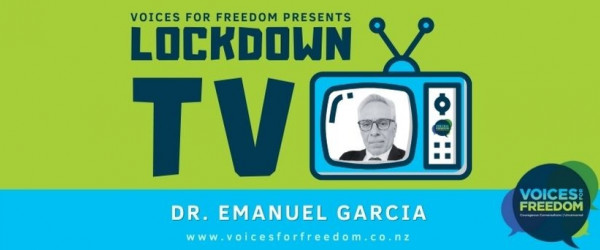 LOCKDOWN TV: The NZ Covid Response: A Psychiatrist's Perspective
Join Claire Deeks as she catches up with Dr Emanuel Garcia to talk about New Zealand's response to Covid-19 from a psychiatrist's perspective.
Dr Garcia received his MD from the University of Pennsylvania in 1986. He is Board Certified in Psychiatry and Neurology by the ABPN. He has practised as a psychoanalyst, psychotherapist and psychiatrist for over thirty years and is currently working in New Zealand, where he emigrated in 2006 and is a dual citizen of New Zealand and the United States.
In this podcast Dr Emanuel Garcia and Claire discuss the following:
The absurdity and stress of 2020 and the lockdowns.
Consequences of a fear based approach to Covid-19.
Masks and social distancing – the lack of science and the psychological damage being caused
The flawed and manipulated PCR testing.
How we were mislead over lethality and the denigration of therapuetics.
Comparisons of the Covid response measures with the definition of Torture.
Life, liberty and the pursuit of happiness under attack and submission of a people
Masks being a badge of slavery (and unhealthy as well as ineffective).
The end point? Elimination. Impossible objective.
Delusion of the Covid-19 vaccines.
Informed consent, and lack thereof in our vaccine roll out.
Breaches of our Human Rights and Bill of Rights legislation.
Life or death. The plan to vaccinate the world.
Government over reach.
Is there evil in the world today.
Below is a 30 second extract from the podcast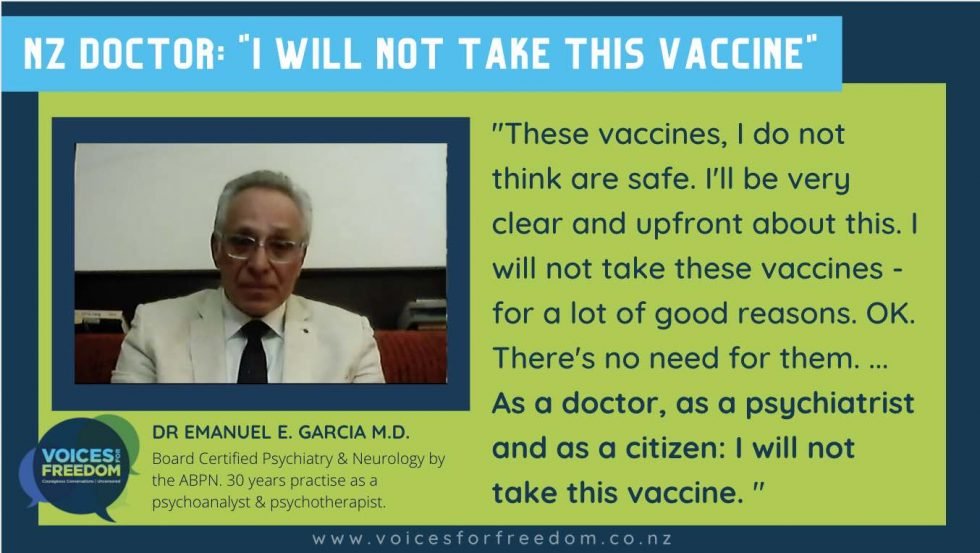 Thanks for reading and sharing! Remember to sign up to our mailing list to keep up with the latest news.
If you value what we are up to at Voices and would like to support our ongoing work you can donate to us and support our nationwide public education campaigns (webinars, flyers, billboards...) and other initiatives to speak up and push back for your freedoms.