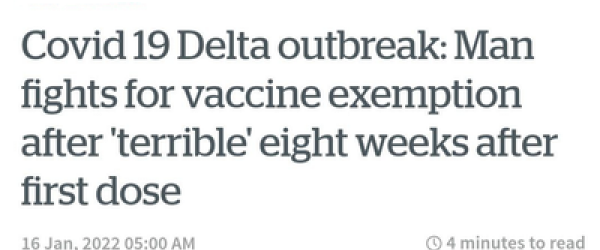 Man Fights For Exemption After 'Terrible 8 Weeks'
Another story was highlighted in the mainstream media today about the impossibility of accessing vax exemptions for those who have experienced adverse reactions.
We are curious as to what has changed to allow the publication of ANYTHING negative about the safety of the jabs OR issues with the government process 🤔
Now that they've cracked open the door will they be able to handle the masses of stories heading their way?
Have you or a loved one been injured by the jab and denied an exemption? Perhaps now is the time to send the mainstream media outlets your story? Let them know the huge number of people affected in NZ.
On the eve of the rollout to our nation's children, the time to speak up is now!
Read the article here …
Stay informed: www.voicesforfreedom.co.nz/stay-informed
Thanks for reading and sharing! Remember to sign up to our mailing list to keep up with the latest news.
If you value what we are up to at Voices and would like to support our ongoing work you can donate to us and support our nationwide public education campaigns (webinars, flyers, billboards...) and other initiatives to speak up and push back for your freedoms.