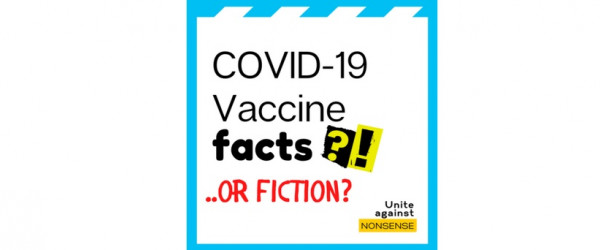 Safe? Effective? Free? Let's Look At The Facts!
This week the government rolled out a new, uber-generalised marketing campaign for the COVID-19 vaccine. The statements made were so outrageously inaccurate and devoid of scientific evidence to support them we felt they were begging for correction. So we got out our red pens!
There are a couple of reasons we wanted to share these images here with you. Firstly, because they're sweeping – the statements as they stand are wildly inaccurate and need amending.
Secondly, we've pulled out our red pens because we all need a laugh right about now (If you don't laugh you'd cry right?). Times are tough with all the COVID crazy and there's way too much stress out there, so treat yourself to a giggle.
Next, we want you to do TWO things:
DOWNLOAD these images to your devices.
SHARE them everywhere you see this nonsense being promoted! Get to it, team!!
We stand with the New Zealand academics, health workers and professionals who want to stop the spread of dangerous misinformation about C-19 and vaccines.
Yesterday, an official organisation released a series of infographics/memes on an important topic. They lacked finer detail. We've remedied the situation. You're welcome.
Safe. That's a strong statement… Well, what can we say? Quite a lot, actually ???? . Look to the official sites and documents for your answers… Approved, with conditions as reported here on Medsafe's website.
On Medsafe's 58 conditions we wrote this blog post. Clinical trial for Pfizer, end date January 31, 2023 – see Pfizer's own confirmation of this here.
For more factual, research-based information, check out our other blog posts.
These statements just seem so final. It's effective?
The information offered is generalised with fingers crossed behind backs in the hope that people don't read.
This generous "effective" statement is undermined by the Ministry of Health's own printable info PDF (Getting your COVID-19 Vaccine: what to expect) where it clearly states in black and white: "However, we don't yet know if it will stop you from catching and passing on the virus."
So how effective is effective? Well, whatever you do, don't read this and definitely steer clear of this – after all they're from an editor of that notorious conspiracy rag the old BMJ.
It's free?
Look, we all know there's no such thing as a free lunch. We're paying for this, you're paying for this, our children will be paying for this for goodness knows how long… We're ALL paying for this whether we want it or not.
Lastly, we've included a BONUS poster just for you! We found this treasure over on the Ministry of Health website in their Vaccine Resources section and thought we should draw your attention to a rather important acknowledgement.
Let's get the word out! Download and share the pics from this blog post and spread the truth.
Thanks for reading and sharing! Remember to sign up to our mailing list to keep up with the latest news.
If you value what we are up to at Voices and would like to support our ongoing work you can donate to us and support our nationwide public education campaigns (webinars, flyers, billboards...) and other initiatives to speak up and push back for your freedoms.