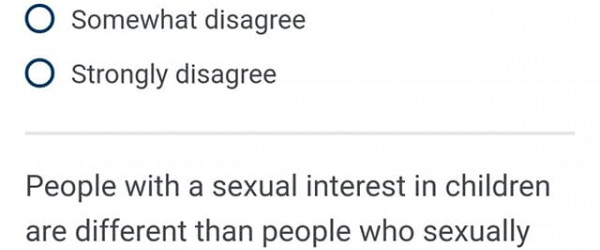 Sexual Interest In Children
What is being normalised here… Ask yourself.
This research is done by Auckland University. Click link, go to bottom of the page and click Next. The video there is appalling. Blurb from Uni below:
Want to help strengthen NZ communities and help keep kids safe? *CW- Sexual interest in children
A new research project is looking for New Zealanders to fill out an anonymous 20 – 30 minute survey (including a 10 – 15 minute video) on attitudes towards people with a sexual interest in children.
This survey explores attitudes to better understand how the public view people with a sexual interest in children, to then develop ways of preventing abuse and enhancing our community's connections and well-being.
This is an opportunity to share your views and contribute to work aiming to prevent child sexual abuse.
HOOKS :Participants have a chance to enter the draw to win one of five $100 countdown vouchers. Interview participants will be offered a $20 countdown voucher for their time.
Approved by the University of Auckland Human Participants Ethics Committee on 10/11/2020 for three years.
#bekindbeblind
---
Column Author: Jaspreet Boporai. a 42 year old wife, mum of two kids (6, 4) and a dairy farmer. She and her husband manage 1500 cows over two farms in Western Southland for a large equity partnership.
Jaspreet got her degree in accounting from Massey and has also been bookkeeping for the last decade.
She and her husband moved to NZ in 2009, swapping 80 hour weeks in corporate banking for prob longer weeks in farming! (her husband has done his MBA and Jaspreet was a mortgage underwriter in India).
Hailing from Punjab (the epicentre of Indian farmer protests), India's wheat basket, the love of land runs strong in the couple and wanting to go large scale farming got them to New Zealand.
Jaspreet's family has been serving in the Indian army for many generations and nearly 30 years ago, her dad served in the Indian army contingent under the aegis of the United Nations in Africa. Thus, began her interest in all things UN related!
Thanks for reading and sharing! Remember to sign up to our mailing list to keep up with the latest news.
If you value what we are up to at Voices and would like to support our ongoing work you can donate to us and support our nationwide public education campaigns (webinars, flyers, billboards...) and other initiatives to speak up and push back for your freedoms.