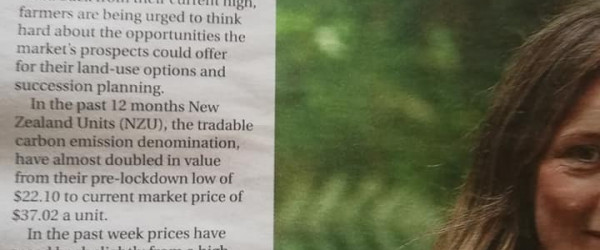 The Slowly Boiling Frog
When the weekly farming rag reminds you of a slowly boiled frog… 🐸
You don't even need to join the dots… They are all joined for you.
Forestry galore.
Fertiliser sky high.
Pine seedings sold out in advance.
Reduction in stock numbers the only way.
Financial hardship for a third of farmers.
Kiwifruit industry risks losing intellectual property in Chinese trial.
Orchardists calling for travel bubble.
Farmers asked to look at forestry potential due to high pricing of carbon credits.
How much longer are we going to #bekindbeblind?
Oh and add SNA land grabs to the mix…
---
Column Author: Jaspreet Boporai. a 42 year old wife, mum of two kids (6, 4) and a dairy farmer. She and her husband manage 1500 cows over two farms in Western Southland for a large equity partnership.
Jaspreet got her degree in accounting from Massey and has also been bookkeeping for the last decade.
She and her husband moved to NZ in 2009, swapping 80 hour weeks in corporate banking for prob longer weeks in farming! (her husband has done his MBA and Jaspreet was a mortgage underwriter in India).
Hailing from Punjab (the epicentre of Indian farmer protests), India's wheat basket, the love of land runs strong in the couple and wanting to go large scale farming got them to New Zealand.
Jaspreet's family has been serving in the Indian army for many generations and nearly 30 years ago, her dad served in the Indian army contingent under the aegis of the United Nations in Africa. Thus, began her interest in all things UN related!
Thanks for reading and sharing! Remember to sign up to our mailing list to keep up with the latest news.
If you value what we are up to at Voices and would like to support our ongoing work you can donate to us and support our nationwide public education campaigns (webinars, flyers, billboards...) and other initiatives to speak up and push back for your freedoms.