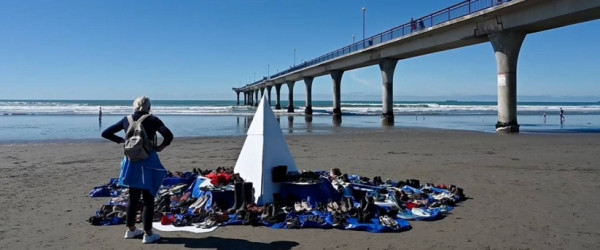 The Tip Of The Iceberg
The Tip of the Iceberg, Report and photos from the installation at New Brighton Beach, on Sunday, 3 April 2022
The Tip of the Iceberg evolved through collaboration between Olli and Megan. They wanted to create a way, through the avenue of an art installation, to provide public recognition for those who have not been acknowledged, and honour the pain and grief that people are holding.
Olli's own experience of feeling like she needed to withdraw and isolate from the world late last year, through feeling unsafe and scared to be herself openly in public, gave her a perspective of what it's like to feel unseen and alone. After finding connection and support through joining the Voices For Freedom tribe, and realising that she did not have to carry the weight of her experience on her own, Olli regained the confidence to express her creativity again. "The many people around me who have suffered from vaccine injuries and are struggling alone without the ability to speak to their experience from fear of judgement, inspired my wish to create a space to talk about it openly, make peoples' suffering visible and give them a voice." 🗨
The purpose of the Tip of the Iceberg is to provide a piece of tangible art, for people to be able to approach at their own pace, process in their own time and take from the installation what resonates for them. Olli and Megan wanted to provide a loving space around the art installation that is supportive, judgement free and inclusive of everyone, regardless of their experience and perspective. This is also a piece of art that hopefully will raise awareness and open minds for some. As an integral part of the team plan, there is a group of people available at the installation, who have the capacity to listen empathically and create hope and connection in a safe, held space for people to open up and share their hurt. 💔
"It was an incredible and touching experience to share this installation with the public and our community on Sunday. 🌊
The support we received from all the other members of our community that turned up to support us was phenomenal! 🌞
We were blown away by their willingness to help us put the installation together and then pack up at the end – thank you to all that came and helped hold the amazingly loving space. Seeing the general public stop and look at the signage and then contemplate the art piece itself was humbling to witness." 💚
Thanks for reading and sharing! Remember to sign up to our mailing list to keep up with the latest news.
If you value what we are up to at Voices and would like to support our ongoing work you can donate to us and support our nationwide public education campaigns (webinars, flyers, billboards...) and other initiatives to speak up and push back for your freedoms.