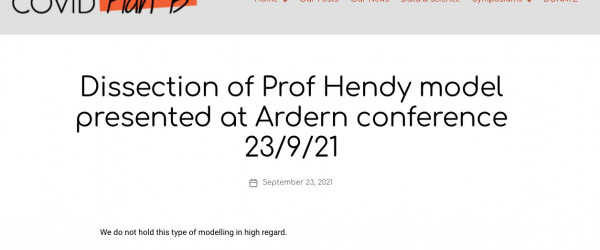 We Do Not Hold This Type Of Modelling In High Regard
First of all, it is myopically focused on reducing harm from Covid-19. It is hard to understand the utility of presenting such results without context.
There is no mention that the average age of death of those predicted to die will be about the same as our life expectancy. To put it slightly differently, most of those forecast 7,000 deaths were on average likely to die that year with or without SARS-CoV2. About 35,000 people die each year in New Zealand and half of them are over 80 years old.
https://figure.nz/chart/SOBvdb4q1OXAaoLM-H9S6kQLicMFxLijb
It is misinformation to build a model that generates a result used to promote vaccination without mentioning that up to half of the predicted deaths will be among vaccinated people.
https://www.covidplanb.co.nz/our-posts/dissection-of-prof-hendy-model-presented-at-ardern-conference-23-9-21/
Thanks for reading and sharing! Remember to sign up to our mailing list to keep up with the latest news.
If you value what we are up to at Voices and would like to support our ongoing work you can donate to us and support our nationwide public education campaigns (webinars, flyers, billboards...) and other initiatives to speak up and push back for your freedoms.