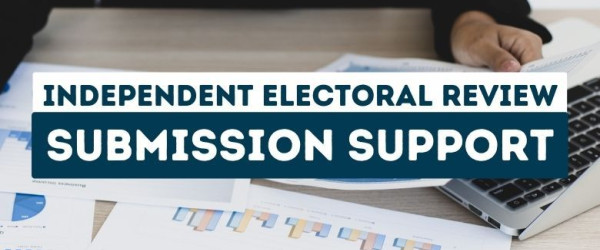 Independent Electoral Review Submission Support
Information and possible helpful submissions on the Independent Electoral Review
Information re submissions on the Independent Electoral Review The government is calling for submissions on the Independent Electoral Review. Those submissions close 11.59pm Monday 14 November 2022.
The review covers:
a. voting age
b. overseas voting

c. the length of the parliamentary term

d. the funding of political parties
e. the party vote and one electorate seat threshold
f. election advertising
For more information, you can review:
a. the consultation information here
b. the summary document here
c. the consultation document here.
We encourage you to either:
a. answer the survey questions (available in the consultation document), or
b. you can write your own submission and email it to [email protected]
Following are a couple of areas of the review that we have considered that you can feel free to use or utilise as you see fit, namely:
a. Voting Age to stay at 18
b. Lowering the 5% threshold to 4%
c. Opposing the suggested move to electronic voting
d. State sanctioned propaganda
TEMPLATE SUBMISSIONS
Below are four areas of the review that we have considered and made notes on. Feel free to copy and paste from here into your own submission document / email.
Voting Age
● In 1853, New Zealand held its first general elections, which had a voting age of 21 years. In 1969, the age eligibility was reduced to 20 years, and in 1974 it was reduced to 18.
● The review asks what the age should be for people to be able to vote noting that the New Zealand Bill of Rights Act 1990 protects the right to vote of those aged 18 and over, and the same Act, protects the right of people aged 16 or older to be free from unjustified disadvantage.
● The question is, does not being able to vote at 16 and 17 create an unjustified disadvantage?
● In my submission the age eligibility to be able to vote in general elections should remain at 18 years of age. This is for a number of reasons including the fact that many people under the age of 18 are uninterested in politics or are not sufficiently educated enough in politics to make an informed vote, a view shared by 79% of students in a United Kingdom poll in 2013.
● The effect of lowering the voting age to those that lack the ability and motivation to participate effectively in elections, will have a negative consequence on the quality of democracy.
● The suggestion that lowering the age can be used to combat lower voter turnout is nonsensical.
Lower the 5% threshold to 4% and abolish one seat threshold
● In the Mixed Member Proportional (MMP) voting system that is used to elect Members of Parliament, the current threshold for parties to win at least one electoral seat is to get 5% of the party vote, or win at least one electoral seat.
● I submit that the percentage of the party vote to get an electoral seat should be reduced from 5% to 4% and that the one seat threshold should be abolished.
● The effect of the current system is that it fails to achieve a representation based on votes and creates inconsistencies. This is no more evident than in the 2008 election, where New Zealand First was denied any seats in Parliament, even though it got 4.1% of the party vote and, while the ACT party got less than that – 3.6% – it was entitled to four more list MPs because it won a single electorate seat. By dropping the threshold, if the Act party received that percentage of the vote again, it would get only one MP in Parliament, not five – and therefore, be a truer representation by maintaining the proportionality in Parliament based on the votes received.
● While the 5% was voted on in the referendum for MMP in 1993, with almost 30 years of MMP, we have had sufficient elections to see that this threshold is unfair.
● Further, the effect of the one-seat threshold has been one of the biggest factors in public dissatisfaction with MMP – as people who have not received sufficient votes still get a seat at the table.
● I agree with the recommendations made at the Royal Commission on the Electoral System, Towards a Better Democracy, 1986 that a 5% threshold was 'too severe' while anything less than 4% ran the risk of fragmenting Parliament and making governing more difficult.6
● I also agree with the comments made in the 2012, Report of the Electoral Commission on the Review of the MMP Voting System (page 12):
This threshold should ensure, first, that each political party in Parliament has at least a minimal level of electoral support, and therefore sufficient MPs to participate fully and effectively in their various functions as MPs. Second, it should provide small political parties with a reasonable chance of gaining seats but limit the proliferation of very small political parties in Parliament thus reducing the risk of fragmentation. A fragmented Parliament can lead to difficulties in forming and maintaining effective governments.
● For these reasons, I propose the reduction of the voter threshold from 5 to 4%.
Keep the ballots as paper and keep the paper longer than 6 months
● It is my submission that voting should continue to be by way of paper format and that the voting papers should be kept for longer than 6 months.
● While archaic, the benefit of paper voting as opposed to electronic voting, is that it protects the integrity of the voting process and reduces the chance for electronic manipulation, hacker tampering or voter fraud.
● For one thing:the person attending the voting station is required to prove their identity.
● There is a plethora of recent examples, that electronic systems can be hacked. As more systems move to online, the increase in fraudulent SMS Phishing campaigns across the financial services industry that attempt to gain unauthorised access to customer accounts increases. There is however little to no protection, with systems being compromised regularly:
a. In mid-May 2021 the Waikato District Health Board's hospital computer systems and phone lines were affected by a ransomware attack. The attack brought the hospital and other reliant health services to its knees, which lasted months.
b. In November 2022, Australian health insurer Medibank was hacked, which saw private information regarding health issues being made public.
● It is clear that data security is vulnerable to attack and in this situation, paper ballots give certainty, accuracy and are able to be recounted.
● Much legislation is in place to avoid elections being unfairly manipulated.
● I do not consider that the advantages of an online or electronic voting system (such as increased efficiency, improved accuracy, and greater voter engagement) outweigh the certainty, safety, reliability and integrity of paper ballots.
● Many people are probably unaware that ballot papers are only retained for 6 months before they are destroyed. This is much too short a time. With accounting records, those are required to be kept for 7 years in order to have recourse to any relevant material within the liability period (or 6 years).
● Six months seems a remarkably short time, and while six years may be too long (given general elections are held every 3 years), there may be a more reasonable period for retaining the ballot papers of 2 years, particularly if the veracity or accuracy of the votes is required to be undertaken.
State sponsored mis and dis-information projects
● The main cause of disinformation and misinformation influencing New Zealand's elections is being propagated by our government and media. Therefore, if anything is to be done to reduce this "risk" then it should be directed at the media and government.
● State sanctioned propaganda could could not be more on display than in the latest dis and mis-information allegations:
a. emanating from our Prime Minister in her recent speech to the UN;
b. peppering mainstream media articles describing people and organisations as cancer and a danger to democracy; and
c. infiltrating our computer such as Stuff Circuit's Fire & Fury who notably received $677,118 of funding from NZ On Air.
d. hitting our TV screens with Web of Chaos, for which OIA requests are yet to be answered.
● Coupled with the propaganda of the new concept of mis and dis-information, has been the creation of various government sponsored surveillance, done purportedly, in the interests of its citizens, but in reality is a blatant attempt to be the one source of truth.
● Such surveillance units established under Labour's tenure, and born out of the loud dissenting concerns raised in respect to the government's response to the pandemic has been:
a. the Ministry of Health's Disinformation Assessment and Response Team (DART),
b. the national Computer Emergency Response Team (CERT NZ),
c. the New Zealand Police, led by a Commissioner of Police who had this to say in the latest Police Association Magazine: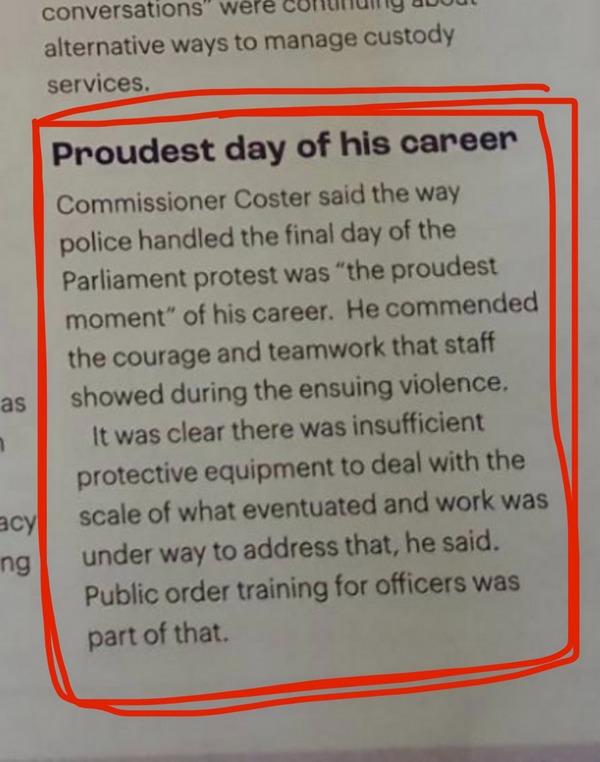 d. the Department of Internal Affairs, and the Department of Prime Minister and Cabinet (DPMC), which operates the National Security Group, the National Centre for Preventing and Countering Violent Extremism,
e. the COVID-19 Group,
f. COVID-19 Modelling Aotearoa (run by Professor Shaun Hendy with Associate Professor Siouxsie Wiles) – and an associated agency, The Disinformation Project with dis-information personalities Dr Sanjana Hattotuwa and Kate Hannah being rolled out to share their bizarre 'expert' views, that can only be described as shallow and lacking any weight or supporting evidence.
g. the Security Intelligence Service Director-General Rebecca Kitteridge help document to identify warning signs of violent extremism: Know the Signs.
FOOTNOTES
Thanks for reading and sharing! Remember to sign up to our mailing list to keep up with the latest news.
If you value what we are up to at Voices and would like to support our ongoing work you can donate to us and support our nationwide public education campaigns (webinars, flyers, billboards...) and other initiatives to speak up and push back for your freedoms.