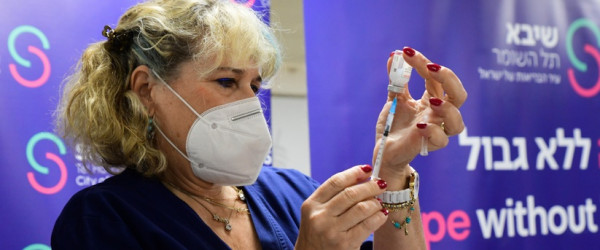 Israeli Trial Finds 4th Dose 'Not Good Enough' Against Omicron
Expert at Sheba Medical Center says jab raises COVID antibody levels, but there are 'still a lot of infections' among those who received it.
Nearly a month after Sheba Medical Center launched a landmark study to test the efficacy of a fourth COVID shot, the hospital said Monday that this fourth booster was only partially effective in protecting against the Omicron strain.
"The vaccine, which was very effective against the previous strains, is less effective against the Omicron strain," Prof. Gili Regev-Yochay, a lead researcher in the experiment said.
"We see an increase in antibodies, higher than after the third dose," Regev-Yochay said. "However, we see many infected with Omicron who received the fourth dose. Granted, a bit less than in the control group, but still a lot of infections," she added.
"The bottom line is that the vaccine is excellent against the Alpha and Delta [variants], for Omicron it's not good enough," she said.
Regev-Yochay added that it is still probably a good idea to give a fourth shot to those at higher risk, but intimated that perhaps the current campaign, which also offers the jab to the over-60s, should be amended to only include even older groups. She did not elaborate.
The hospital did not release more specific data. Regev-Yochay said the results of the research are only preliminary, but indicated that she was providing the initial information since there was high public interest in the matter.
Hours after releasing the results, Sheba published a statement calling for "continuing the vaccination drive for risk groups at this time, even though the vaccine doesn't provide optimal protection against getting infected with the variant."
Hebrew media reported that the hospital was pressured into issuing that statement after the Health Ministry didn't like the publication of the study's initial results.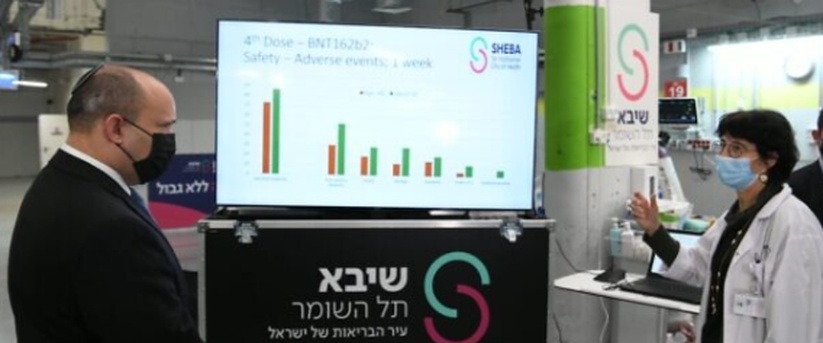 Prime Minister Naftali Bennett speaks with Prof. Gili Regev-Yochay during a visit to Sheba Medical Center in Ramat Gan, January 4, 2022. (Amos Ben Gershom/GPO)
Prime Minister Naftali Bennett has pushed ahead with expanding Israel's fourth dose program, despite the lack of data.
As of Sunday night, over 500,000 Israelis have been inoculated with a fourth dose. The Health Ministry began offering fourth vaccine shots to Israelis 60 and older, the immunocompromised, and medical workers last month.
Sheba's trial program, which began in December with 150 medical staff being given the shot, is many times smaller than normal drug trials, which usually involve thousands of volunteers who results are tracked for months. But it is also the only known study of the effects of a fourth dose.
Israel is pinning hopes that the extra booster may help keep the Omicron variant from overwhelming hospitals and shutting down normal life.
The study, the first of its kind in the world, is being carried out in conjunction with the Health Ministry, and has been approved by the government's senior panel on human medical trials.
The World Health Organization has urged countries to delay booster programs until the whole world has access to initial vaccine doses.
Around two-thirds of Israel's population of nearly 9.5 million have received at least one dose of the vaccine, and nearly 4.4 million Israelis have received three doses, according to the latest Health Ministry figures.
Thanks for reading and sharing! Remember to sign up to our mailing list to keep up with the latest news.
If you value what we are up to at Voices and would like to support our ongoing work you can donate to us and support our nationwide public education campaigns (webinars, flyers, billboards...) and other initiatives to speak up and push back for your freedoms.