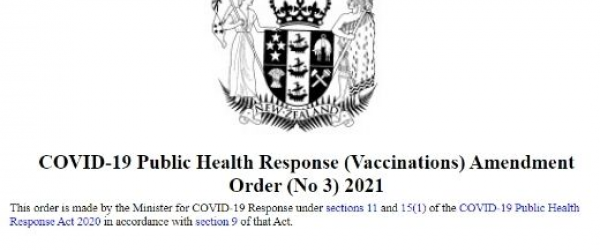 Hold The Line
Voices For Freedom is a not-for-profit advocacy group fighting for New Zealander's fundamental rights and freedoms. We are particularly concerned at this time to protect medical freedom and freedom of speech. We have developed a number or resources to assist Kiwis at this time. Visit our resources page to access these and be sure to stay informed. For further tools and information to assist with matters relating to "no jab, no job" please click here.
Late last night the widely anticipated "No Jab, No Job" Order was finally gazetted and circulated. (Two and half weeks after the first announcement from the podium.)
The timing sure is ironic isn't it? A Labour government bringing in new mandates threatening the livelihoods of its core workforce of educators, health care professionals and prison workers on a Labour weekend – coming into force on Labour Day no less…
That said, upon close examination of the amending Order, there's an unannounced addition: an exemption. The government must have been so excited that it forgot share any details of it in any of its numerous press conferences – including yesterday!
It appears the exemption is broad and low level and could be a game changer. We are speaking further with legal counsel to clarify our interpretation, see below for more details.
In any event, the government has clearly caved to pressure from you. As well as adding an exemption, it's extended the jab timeframe.
The date is no longer 30 October. The new key date is 15 November. So you have three weeks from now to obtain an exemption, get your first jab or otherwise negotiate with your employer.
We understand that there is a lot of information to take in. So we will run a special webinar specifically to discuss this amendment order at 12:30pm, Monday. If you are not able to make this webinar we have another one already scheduled to cover this and other aspects of "no jab, no job" employment matters on Tuesday at 8pm. Register for the 8pm Tuesday employment webinar here.
Disclaimer: The following analysis of the COVID-19 Public Health Response (Vaccinations) Amendment Order (No 3) 2021 has been undertaken under urgency and is provided for educational purposes only and does not constitute legal or medical advice. To view the legislation in full you can see the Order here and the amending Order here.
COVID-19 Public Health Response (Vaccinations) Amendment Order (No 3) 2021
SUMMARY There is a new order (it comes into force at 11.59 pm this Monday 25 October 2021).
It amends the COVID-19 Public Health Response (Vaccinations) Order 2021 (the principal order), requiring persons belonging to specified groups (affected persons) who carry out certain work to be vaccinated.
Previously these specified persons were limited to front line border workers (port, airline, and MIQ).
It now specifies three additional groups to be vaccinated: education, healthcare and prisons.
But it now allows a mandated worker to obtain an exemption where it is inappropriate for that person to be vaccinated (exemptions have only been available before now in very limited and extreme circumstances whereas this new exemption is broad).
A vaccination register has to be kept by employers of those falling within the mandate/s (to indicate whether they have had the jab, not had jab or are exempt).
WHO IS NOW MANDATED?
Health practitioners.
Workers who work in close proximity to health practitioners providing health services to members of the public.
Workers employed or engaged by certified providers (which includes workers at a facility providing hospital care, rest home care, residential disability care, or fertility services).
Care and support workers.
Workers over the age of 12 years who:

carry out work at or for an affected education service (including as a volunteer worker or an unpaid worker) and who may
have contact with children or students in the course of carrying out that work or who will be present at the affected education service at a time when children or students are also present.

Providers of a home-based education and care service.
The affected education services to which the vaccination requirement applies are:

early childhood services (other than playgroups)
registered schools
Hostels.
WHAT ARE THE RELEVANT DATES?
The order sets out dates by which vaccination is required to have taken place.  There is now no longer a mandate set for the 30 October.
For groups 1 (health care) and 3 (education) an affected person must have their first jab or obtain an exemption by 11.59pm 15 November 2021 and their second jab by 11.59pm, 1 January 2022. If you miss the 15th November 2021 deadline, you'll be treated as vaccinated if you've received your second jab by 11.59pm, 1 January 2022.
Prison workers have different dates, namely first jab by 11.59pm on 6 November 2021 and second jab by 11.59, 8 December 2021.
WHAT ARE THE NEW EXEMPTIONS AND WHO CAN OBTAIN THEM?
Who can obtain the new exemptions?
Affected persons who belong to a group specified in Part 6, 7, 8, or 9 of the Table in Schedule 2 – ie this includes the educators, health care workers and prison workers (new parts 7,8,9) and the extended front line workers that were already mandated (part 6).
How to obtain your exemption?
A "suitably qualified health practitioner" examines you and makes a determination that it would be inappropriate for you to be vaccinated.
What steps will be involved?
Meet with a suitably qualified health practitioner in person, by phone or online.
Receive confirmation from them that it is inappropriate for you to receive the vaccine due to "physical or other needs".
Two points to note here:
"inappropriate" is not defined so the ordinary dictionary meaning applies: "not suitable or proper in the circumstances" (as per rules of statutory interpretation);
"physical or other needs" clearly extends beyond physical conditions to include mental conditions and is likely to include religious beliefs.
While confirmation of the exemption is not required to be in writing, you should request it in writing so you have that supporting information for your employer to complete its vaccine register. The written exemption need not specify why it is inappropriate for you to receive the jab, just that it is "inappropriate for you to do so".
Who may be a "suitably qualified health practitioner"?
According to the Health Practitioners Competence Assurance Act 2003:
A "health practitioner" is "a person registered with an authority as a practitioner of a particular health profession". (s5(1) of the Health Practitioners Competence Assurance Act 2003).
A "person registered with an authority" means a health practitioner who practises in a regulated profession in New Zealand, is registered with the relevant responsible authority, and holds an Annual Practising Certificate (APC) issued by that authority. A list of health practitioners that are regulated by a relevant authority is available at Responsible authorities under the Act | Ministry of Health NZ
Therefore a suitably qualified registered health practitioner is one that can determine that it is inappropriate for an affected person to receive the vaccine. Depending on the affected person's physical or other needs a suitable health practitioner may include:
Medical Doctor
Psychologist
Psychotherapist
Midwife
Nurse practitioner
Osteopath
Pharmacist
Chiropractor
VACCINATION RECORDS:
A vaccination record* has to be kept by PCBU/Employers in respect of all mandated workers.
This record must contain specified information, including information about whether the person is vaccinated, any doses of a COVID-19 vaccine the person has received or the dates by which the person must have any dose to be vaccinated, and, if the person is not vaccinated, whether the person relies on an exemption or authorisation.
*NB This new mandate does not bring in a requirement on schools to keep a record of the vaccination status of their students.
ENFORCEMENT:
An affected person must not carry out certain work unless they are vaccinated (or have an exemption). Failure to obtain the exemption and/or get vaccinated means that a person or relevant PCBU may be liable to an infringement fee of $300 or a fine not exceeding $1,000.
Disclaimer: The above interpretation and analysis of the COVID-19 Public Health Response (Vaccinations) Amendment Order (No 3) 2021 is provided by Voices For Freedom for educational purposes only and does not constitute legal or medical advice. To view the legislation in full you can see the Order here and the amending Order here.
Thanks for reading and sharing! Remember to sign up to our mailing list to keep up with the latest news.
If you value what we are up to at Voices and would like to support our ongoing work you can donate to us and support our nationwide public education campaigns (webinars, flyers, billboards...) and other initiatives to speak up and push back for your freedoms.